Who is Patty Campbell you ask? Well, here's the scoop. Nine-Eleven was a turning point in my life, as in so many others. It brought home how suddenly a world can be turned upside down, and why if there are things I wanted to do, I'd better do them. I wanted to write love stories.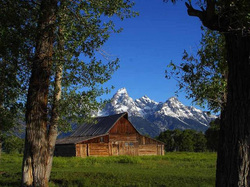 I was increasingly burned out in my profession of thirty years, and time waits for no one. I'd been widowed for six years, so what was keeping me there? I sold my travel business and coffee bar, and my big house and moved to the wild open spaces of Wyoming. The breathtaking view of the Grand Teton Mountains from the dining room picture window of the small house in Jackson Hole clinched the deal.
Heaven on earth. The perfect place to take a cleansing breath and write. I loved every minute of it, including the deep snow of winter. There's no substitute for a cozy fireplace and a good book.
The path to publication is hard, slow work. I love the books I've written and hope you enjoy reading them as much as I enjoyed creating new worlds populated by special people.